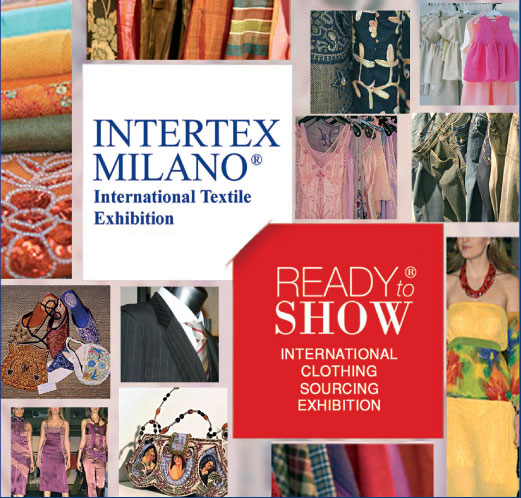 | | |
| --- | --- |
| Time: | Sep 17-19,08 |
| Country: | Italy |
| Venue: | Palazzo Delle Stelline Exhibition Center, Milan, Italy |
| Sponsor: | T.D.F. Srl |
| Organizer: | T.D.F. Srl |
| Homepage: | |
| Exhibiton: | textiles,garments and accessories |
| Document: | |
Introduction
Outsourcing without geographic limits for INTERTEX MILANO and READY TO SHOW !
The only fair in Italy for outsourcing of textile and garments announces another novelty for its next edition which will take place from September 17 to 19, 2008 at the Palazzo delle Stelline Exhibition Center in Milan, Italy.
Remark
| | |
| --- | --- |
| Contact company: | T.D.F. Srl |
| Address: | Via Saffi No. 9- 20123 Milan- Italy |
| Zip code: | 20123 |
| Contact person: | Georges PAPA |
| Phone: | 0039 02 48015026 |
| Fax: | 0039 02 4815339 |
| E-mail: | |
Post-Show Report:
PRESS RELEASE 19/02/2008
14th INTERTEX MILANO – International Textile Exhibition
12th READY TO SHOW – International Clothing Sourcing Exhibition
Date: February 13 to 15, 2008
Place: Palazzo delle Stelline Exhibition Center, MILAN, ITALY
Endorsement and Novelty at the Milanese trade show of outsourcing !
The double appointment in Milan of INTERTEX MILANO and READY TO SHOW which just took place at the Palazzo delle Stelline Exhibition Center (February 13 to 15) concluded with a positive note despite the undisputable difficulties of the market.
Almost 3000 visitors visited the trade shows, of which more than 20% were international. There was a strong increase of visitors from Eastern Europe (Russia, Croatia, Slovenia, Poland, Hungary ….) and healthy development of traditional markets (Greece, Spain, United Arab Emirates ).
As far as Italy is concerned, we have to emphasize that today brand names represent more than 50% of the visitors (women's ready to wear, sportswear, children's wear, knit wear, leather wear …..). On the increase are also producers of accessories (+15%) looking for new suppliers but importers and wholesalers are falling in numbers. It is worth noting that there is stronger interest of Italian free lance designers (+25%) who want to collaborate with other countries ( specially China and Turkey ).
Among the best sellers of the trade shows, the most popular requests are for cashmere knitwear, as well as merino knitwear (China / Mongolia), strong demands also for embroideries (India / Vietnam), shirting and sportswear fabrics (Turkey / Bangladesh / Egypt), children's wear and streetwear (China / Hong Kong / Tunisia), medium range women's ready to wear ( India / China ) but also, very high quality fashion (Japan / Lebanon).
Novelty of this edition: fashion accessories proposals ( Madagascar / Mauritius / Vietnam ) which experienced remarkable requests from Italian designers sourcing teams.
INTERTEX MILANO was also the occasion to launch the promotion of professional trade shows: TEXMED, June 2008 in Tunis and EGYTEX, November 2008 in Cairo.
The very good flow of visitors on the last day of the trade shows on Friday, February 15, has convinced the organizer to change the date of the next edition to take place from Wednesday, September 17 to Friday, September 19, 2008.
In the next edition, conferences will be organized, specially on subjects regarding the Euro - Mediterranean zone and the Agreement of AGADIR. Mini fashion shows will also enhance some producers who step by step have been creating their own collections.